Manufacturer's instructions for most appliances are in the blue file in the lounge. If you have a problem or question you will find reception staff very helpful, or email us: info@costanatura102.com
Free superfast fibre-optic wifi:
Network and password details are on a label on the wifi box.
Dining:
Every apartment in Costa Natura has to make some compromise on layout, due to size limitations – there just isn't room for everything. We decided not to have a dedicated internal dining area, since dining al fresco is the norm for most of the year. Outside, there is a large and a small table and 10 chairs. If you wish to dine indoors, you can bring one of the tables inside. Please return it to the terrace before you leave.
For al fresco dining, there is a large table on the lower terrace, with comfortable chairs (cushions are in the storage chest), and a small round table on the upper terrace. On chillier evenings the toldo (awning) can be opened out and the wall mounted infra-red heater used.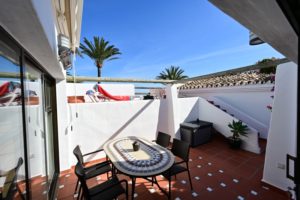 Sun lounger and seat cushions:
These are stored in the chest on the lower terrace. The key is on the ring with the apartment key. Please put them in the chest (or indoors) at night. There are many resident cats who love to leave their "mark", and sudden showers are not unheard of, even in summer. Using towels on seats and sun loungers when naked is, of course, expected naturist etiquette.
Television:
The new Toshiba smart TV is on a mobile stand, which can be moved to your preferred position. We have installed a VPN, which can be set to any country, allowing you to use your own Netflix, Prime etc accounts.
There is a selection of DVDs in the corner cupboard in the bedroom. To use the DVD player, select HDMI2 with the large Toshiba remote control and then use the small LG remote control for the DVD player.
Light dimmers:
Press once for ON, once for OFF, hold down to adjust light level. All lights are LED.
Side window in bedroom:
Handle down – window locked, handle horizontal – window opens fully, handle up – window tilts.
Underfloor heating:
The underfloor heating is now set remotely, and comes on for 3 hours in the morning and 6 hours in the evening during the colder months. It cannot be changed on the wall thermostats. If you are not happy with the settings, please email us at davidjhunkin@yahoo.co.uk and we will try to accommodate your requirements. You can, of course, use the air conditioner units to give an instant heat boost.
Hot water:
The hot water tank is in the bathroom wardrobe, temperature control underneath. It is pre-set at 3.5 for safe heat. If you want it hotter, adjust as necessary but, in our opinion, it is unnecessary and could scald. If you do increase it please return to the safe setting before leaving.
Dishwasher:
Put tablet in slot, shut cover. Close door. Press ON/OFF (left hand button). Select desired programme. Press Start (right hand button). If you use the last tablet please replace.
Washing machine:
Plastic soap sachet goes in with washing. ALGOD is a long wash (2 hours), RAPID MIX is usually adequate (1 hour). Touch INICIO to start. If you use the last sachet please replace.
Hob:
Touch panel controls. Turn on with lower left-hand button. Press + on the panel corresponding to the hotplate you want, then adjust with +/- to desired temperature. On the large and mid-size hotplate you can press the symbol to turn on or off the outer ring. Switch off individual hotplates by reducing temperature to zero, or all hotplates by pressing the on/off button. WARNING: hotplates stay hot for some time. Please do not use scouring cream on hob (or on non-stick pans).
Air conditioning:
Use remote controls to set desired temperature and function (e.g. cool or heat). Please do not set colder than 20°C as this wastes a huge amount of energy. Please replace remote controls to holders.
Sitting room furniture:
We provided new furniture in 2020. We have put protective covers on, but please use towels or similar when naked.
Bedding, towels etc:
Housekeeping will change bedding and towels regularly. Extra blankets etc are stored on the top shelf in the bathroom wardrobe. There is a vacuum cleaner, iron and ironing board in the wardrobe for your use. We do not supply beach towels. Please do not take our towels to the beach or sauna.
Stores:
You are welcome to use any consumables you find in the cupboards, but please do not leave the dishwasher and washing machine tablet boxes empty – if one of them becomes empty during your stay please replace.
Toldo:
The toldo (sun canopy) provides welcome shade in hot weather. Please wind it in if you experience high winds and before you leave. Thank you.
Outside heater:
Useful when dining outside on cooler evenings. Turn on using the switch behind the right hand end and press the MODE button for the desired heat level (1, 2, 3). Please ensure it is turned off when you have finished.
Pétanque
If this is your first time in Costa Natura, and you want to meet people, we recommend the pétanque (boules) court. You will find the players very friendly and helpful if you have never played before, and you will soon have a wealth of friends of all nationalities. You can borrow boules free of charge from reception. Times vary according to season, so check with reception.
Above all, have a great holiday!
David and Dawn Hunkin